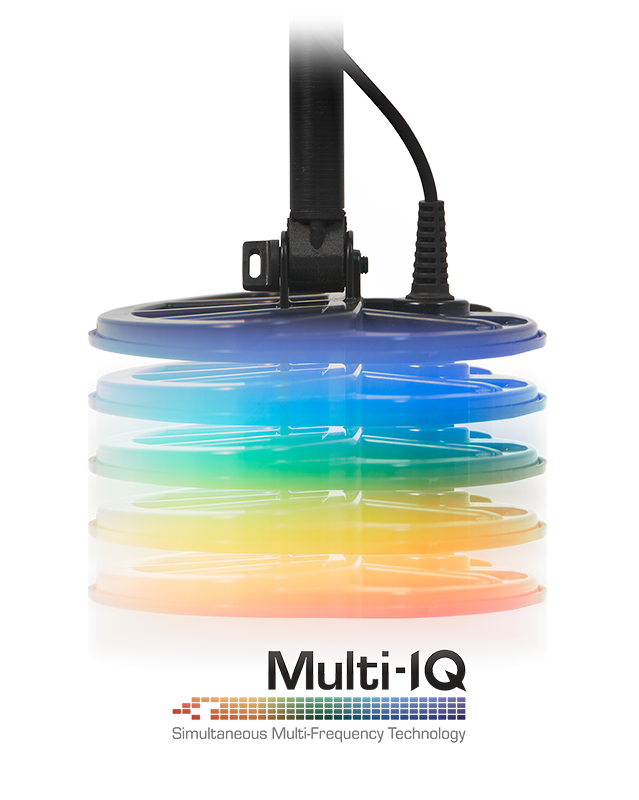 SIMULTANEOUS MULTI-FREQUENCY
True intelligent Simultaneous Multi-Frequency for maximum performance, plus a wide range of single frequencies.
EQUINOX 800 TECHNOLOGIES



MULTI-IQ
Multi-IQ Simultaneous Multi-Frequency
Low frequencies typically give more depth on large targets than high frequencies, which are usually more sensitive to small targets. With EQUINOX you can operate across the full spectrum of frequencies simultaneously for maximum results. 
The EQUINOX 600 offers a choice of 3 single frequencies and the EQUINOX 800 offers the choice of 5 single frequencies. Both models cover a much broader range of targets when operating in Multi than any one single frequency can, however, if excessive ground noise is present in a particular detecting location, switching into a single frequency can help to eliminate this.
Detect Modes
Park | Beach | Field | Gold
Custom Search Profiles
8 (2 per Detect Mode)
Operating Frequencies (kHz)
Multi, 5, 10, 15, 20, 40
Noise Cancel
Auto | Manual (-9 to 9)
Ground Balance
Auto | Manual
Target Identification
50 segment notch discrimination | Ferrous: -9 – 0 | Non-ferrous: 1 – 40
Tone Break
Ferrous | Non-ferrous
Tone Pitch
Ferrous | Non-ferrous
Tone Volume
Ferrous | Non-ferrous
Weight
1.34 kg (2.96 lbs)
Standard Coil
11-inch Double-D Smart coil with skidplate (waterproof to 3m/10')
Audio Output
• In-built loudspeaker • 3.5mm (1/8") headphones (included) • Bluetooth compatible • WM 08 Wi-Stream compatible
Headphones (included)
Bluetooth and aptX™ Low Latency headphones (non waterproof)
Display
Monochrome LCD with backlight
LCD Backlight
Low | Medium | High | Off
Battery
In-built rechargeable Lithium-ion battery
Battery Runtime
Approx. 12 hours
Waterproof
Waterproof to 3m/10-feet
Key Technologies
Multi-IQ | 5F×8 | Wi-Stream | Bluetooth | aptX™ Low Latency
Other Accessories
USB Charging cable (1.5A), Multi Language Screen protectors
Software Upgradeable
Yes, via USB connection (Windows and OSX)
Warranty
3 years control box and coil
Customer Reviews
12/26/2020
stephieb
United States
EQUINOX 800
Just purchased this equinox 800 for my fiance for his birthday and his little hobby of a couple of times a month hsa turned into a full blown addiction. He absolutely loves this detector. He has mostly been using it in "approved" airfields, personal homes, and open fields and has been learning how to identify targets that are deep. With his other minelab detectors, he typically would have skipped some of the readings and more than likely missed some interesting or not so interesting finds. With that being said, Garry the owner of Treasure Coast Metal Detectors, was really helpful and responded with in a few hours of my initial query. In addition to offering to drive it to me if for some reason the initial one shipped was late. He didn't want me to blow this bday gift. LOL...anyhow, incredibly happy with the purchase and service...and #PROSMALL BUSINESS...