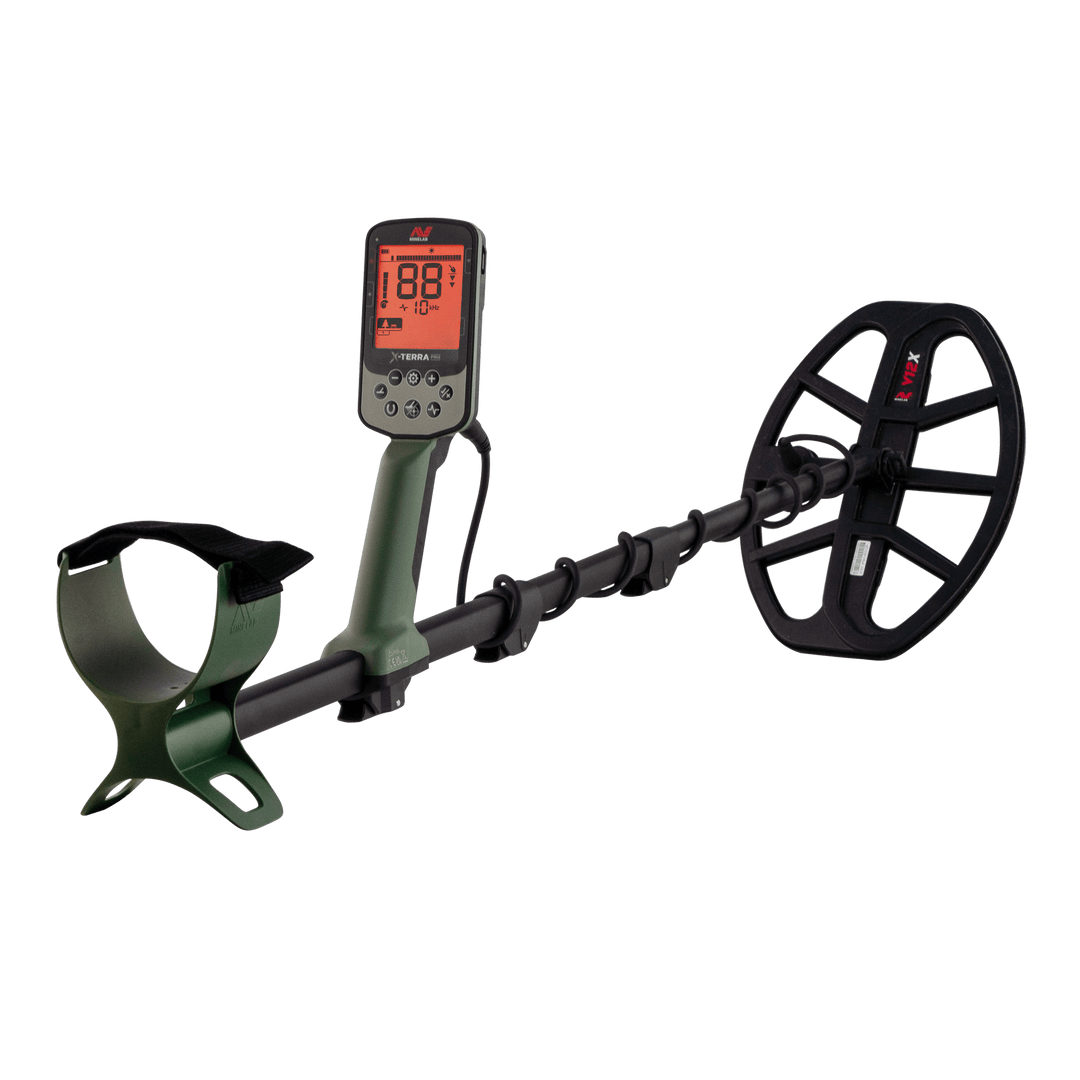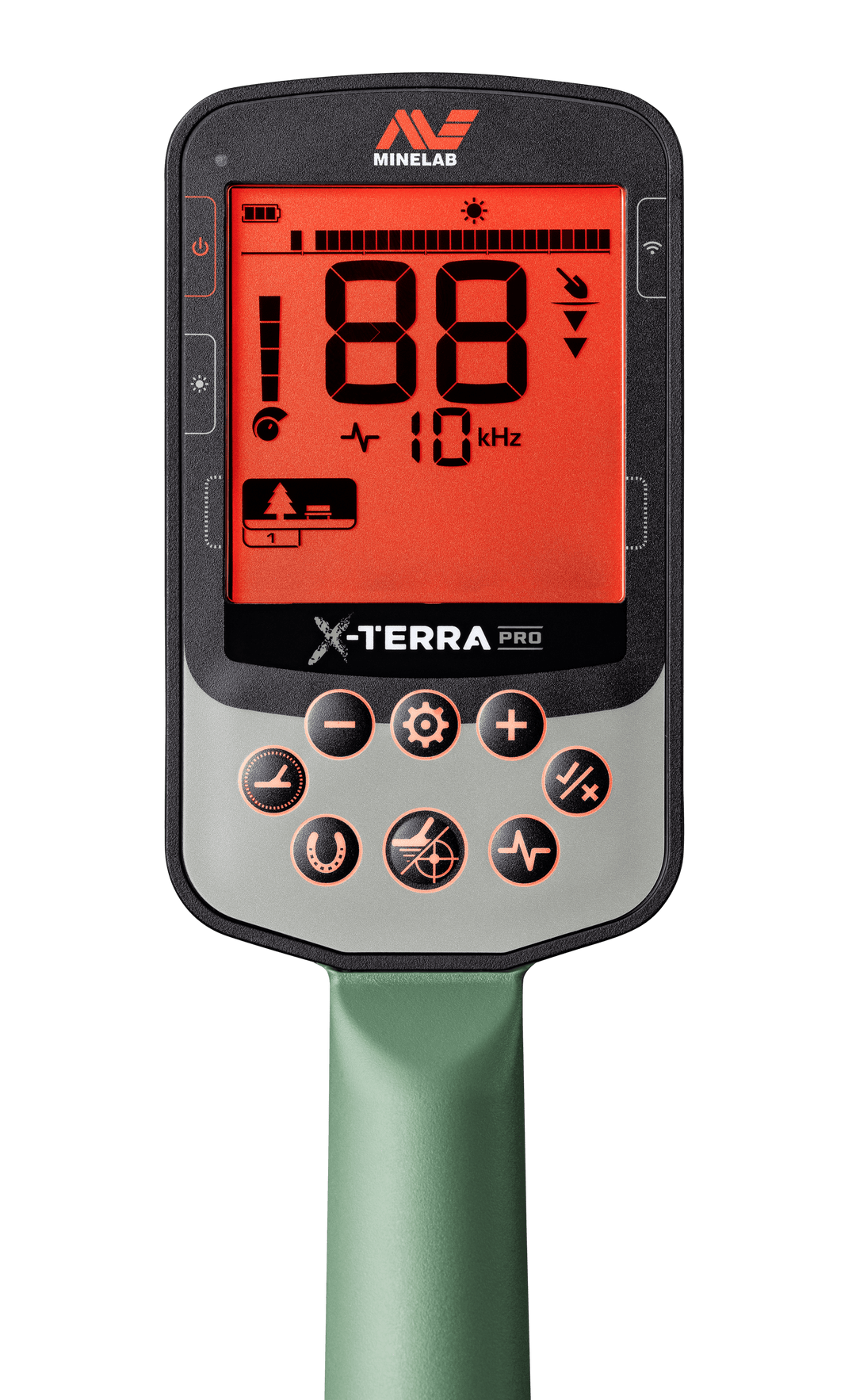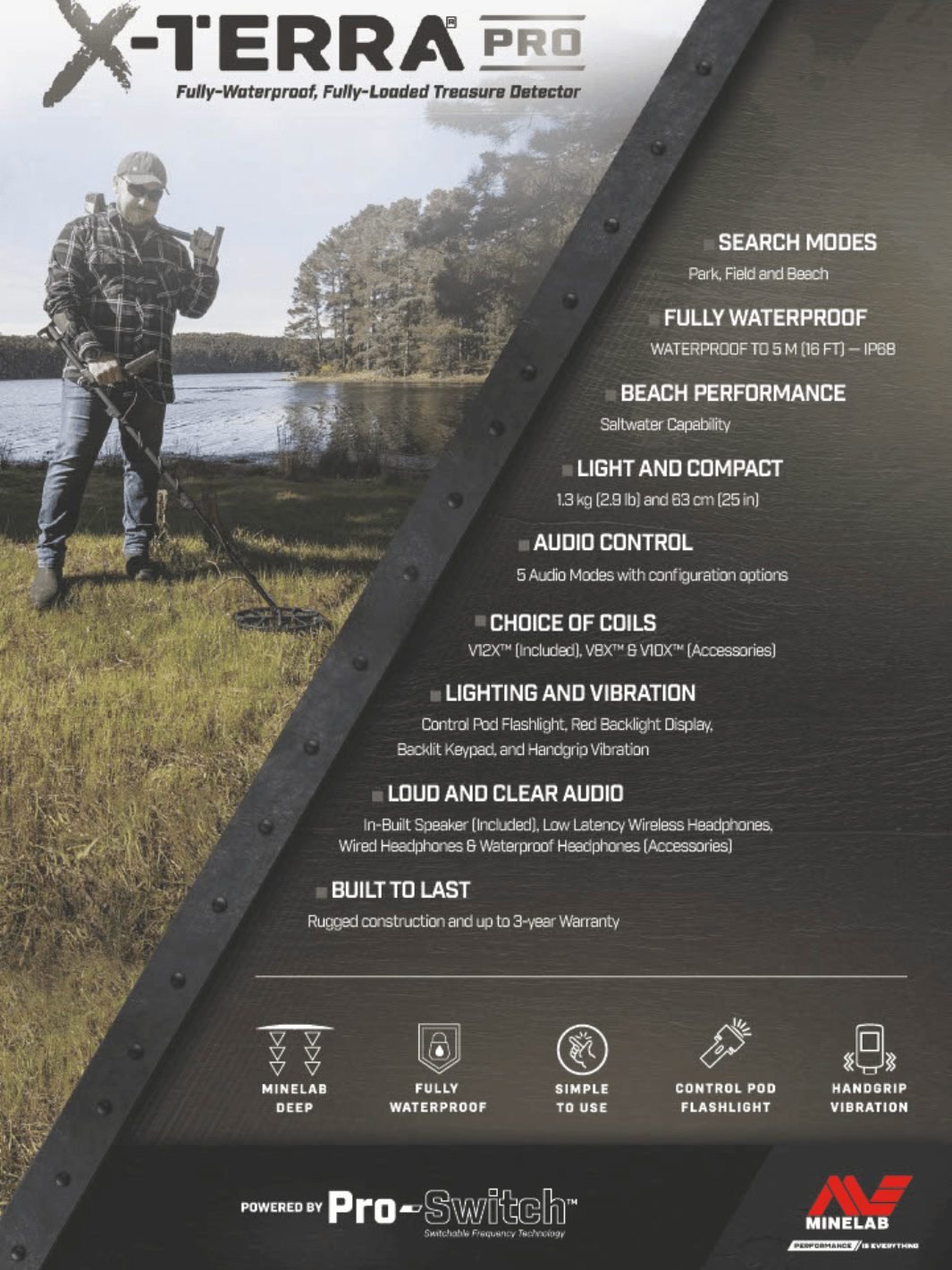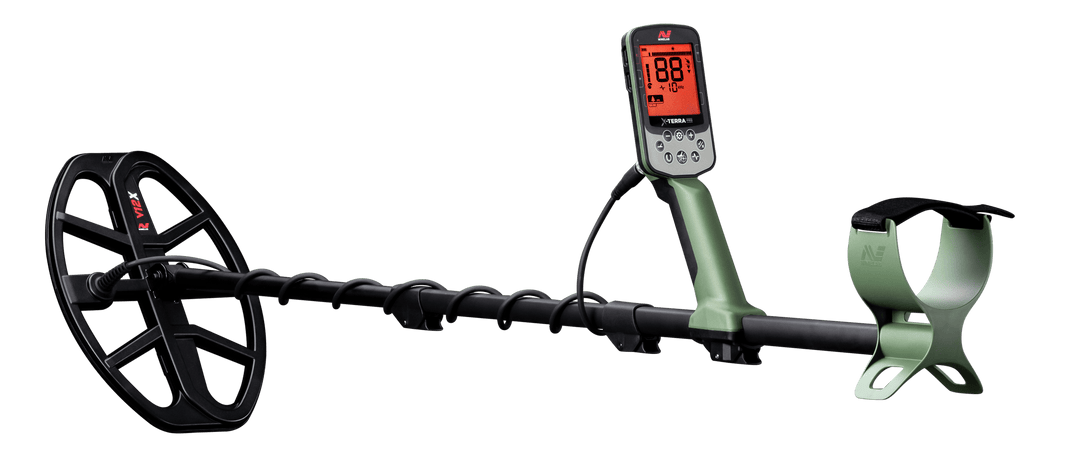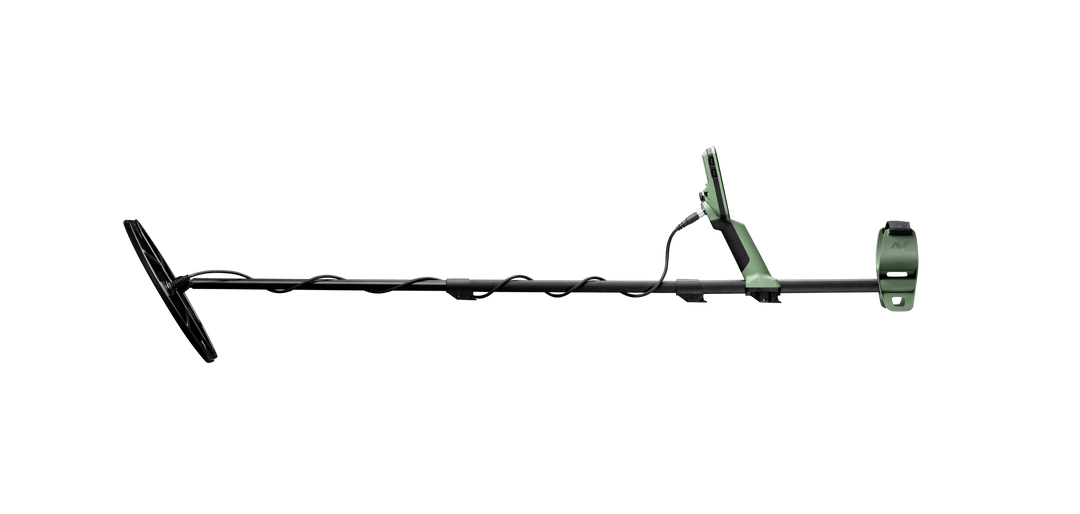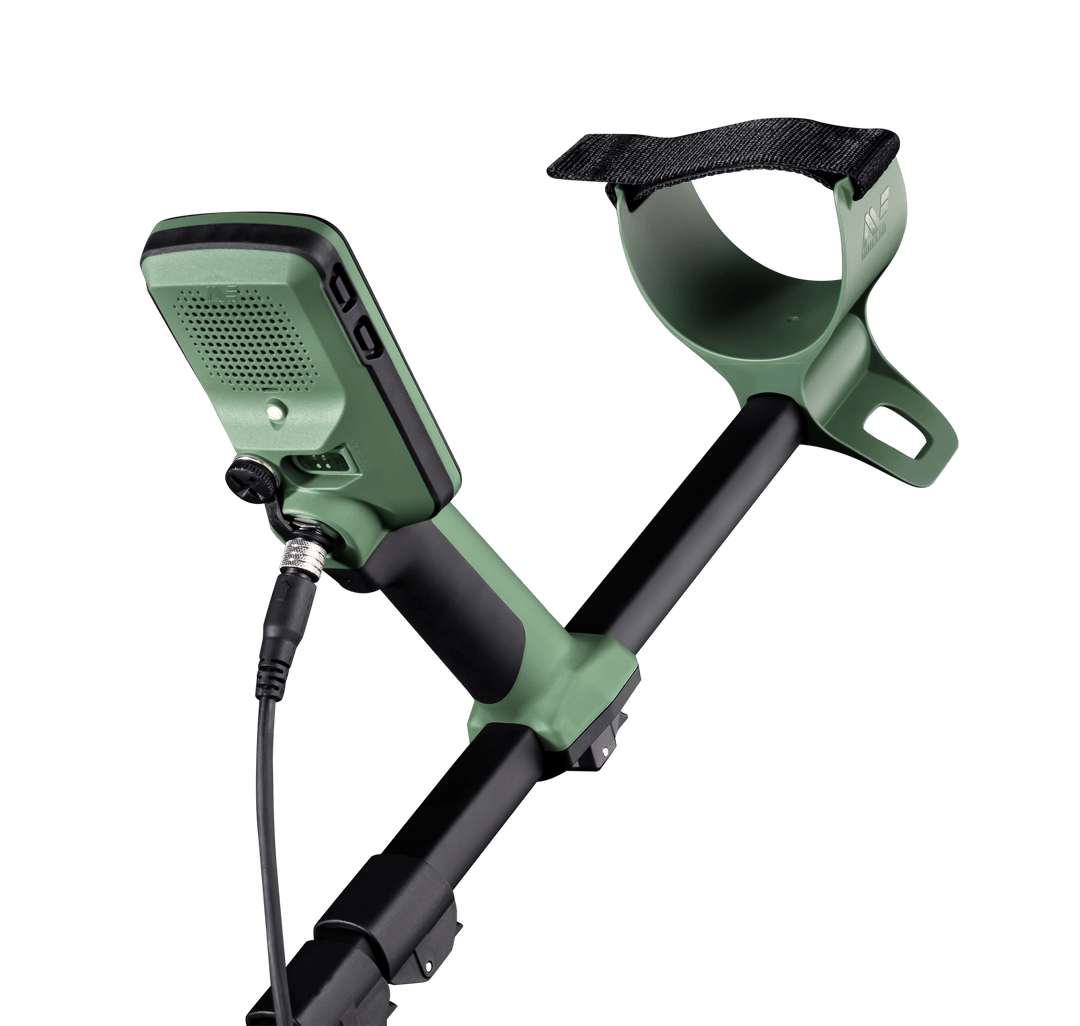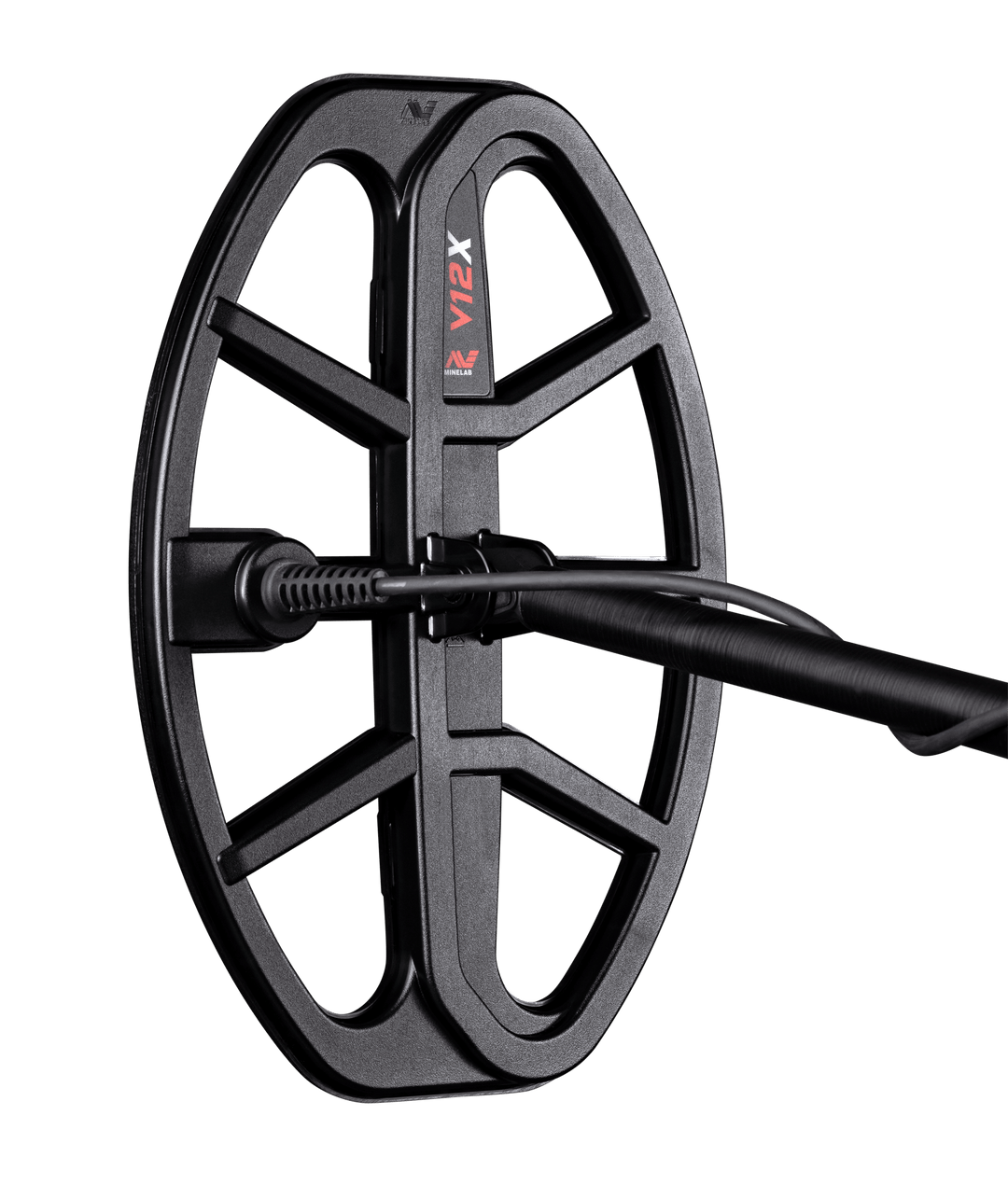 Regular price
$379.00
Sale price
$269.00
Save $110.00
/
---
Low stock - 4 items left

Inventory on the way
X-TERRA PRO METAL DETECTOR FEATURES
PRO-SWITCH
Driven by the enhanced PRO-SWITCH™ engine, X-TERRA PRO by Minelab gives you the power to switch frequencies. Detect targets deep anywhere, in any conditions — there is deep and then there's Minelab deep.
FULLY WATERPROOF
With waterproof control pod and coil to 5 m (16 ft), take X-TERRA PRO anywhere — land or water — and own the ground beneath your feet.
BEACH PERFORMANCE
X-TERRA PRO by Minelab dominates at the beach and a dedicated Beach Mode handles the most difficult saltwater conditions.
LIGHT AND COMPACT
Comprising lightweight 3-piece shafts, X-TERRA PRO weighs only 1.3 kg (2.9 lb.) and packs down to a mere 63 cm (25 in) — throw it in your backpack and you are all set.
SIMPLE TO USE
A large LCD display and intuitive user interface makes it easy to for beginners to get started right out the box, and seasoned hunters to fine-tune settings quickly and easily.
AUDIO CONTROL
With multiple tone audio options, the sound of treasure has never been clearer — X-TERRA PRO's advanced audio means you will not only 'hear' if a target is trash or treasure but you will also be able to gauge its size and depth simply by listening.
CHOICE OF COILS
X-TERRA PRO by Minelab offers an array of waterproof coils and is compatible with V12X™ 12"x9" Elliptical Double-D (included), V8X™ 8"x5" Elliptical Double-D, and V10X™ 10"x7" Elliptical Double-D coils (accessory) so you will be prepared for any terrain. X-TERRA PRO is also compatible with all EQUINOX® series coils.
LIGHTING AND VIBRATION
The daylight may have ended, but that does not mean your hunt has to — with Control Pod Flashlight, Red Backlight Display, Backlit Keypad, and Handgrip Vibration you can power on long after the sun has gone.
LOUD AND CLEAR AUDIO
Enjoy the crystal-clear audio with In-Built Speaker (included) or lightning-fast Low Latency Wireless Headphones, Wired Headphones, and Waterproof Headphones (accessories).
BUILT TO LAST
Because we are committed to leading the pack for performance and support, X-TERRA PRO by Minelab is backed by Minilab's global network and up to 3-year warranty.
Discover the Ultimate Metal Detecting Experience
With the X-TERRA PRO treasure detector, you can explore the outdoors in a whole new way and discover hidden treasures that are waiting to be uncovered. Its lightweight and ergonomic design makes it easy to carry around, while its advanced features make it easy to use. You will love how the detector's Park, Field, and Beach search modes adapt to your terrain, delivering optimal performance every time. And with PRO-SWITCH technology, you can customize its frequency to suit any situation. Waterproof to a depth of 16ft (5m), you can even take the X-TERRA PRO into the water for a complete detecting experience.
Advanced Technology for Precise Target Identification
Thanks to advanced technology, the X-TERRA PRO has a precise target identification system that gives you the information you need to decide whether to dig or not. Its 5-audio modes and handgrip vibration provide clear and distinct feedback, allowing you to identify the size, shape, and depth of a target with ease. Plus, its control pod flashlight illuminates your way in poorly lit conditions, ensuring you will never miss a valuable find. Whether you are a beginner or a seasoned detectorist, the X-TERRA PRO's advanced technology ensures that every signal you receive is as accurate as possible.
Customizable Detection Modes for Versatile Performance
One of the standout features of the Minelab X-TERRA PRO metal detector is its customizable detection modes. With four frequency options (5, 8, 10, or 15kHz) and three search modes (Park, Field, and Beach), the detector offers unparalleled versatility. Want to hunt for coins in a park or field? Simply switch to Park mode, set your frequency, and start detecting. Looking for relics at the beach? Switch to Beach mode and let the X-TERRA PRO adjust to the saltwater. Its customizable options make the detector adaptable to any environment, so you can focus on finding treasure.
Enhanced Sensitivity for Maximum Detection Range
The X-TERRA PRO boasts enhanced sensitivity that allows you to detect targets at maximum range. Its high-frequency detection capabilities make it ideal for finding small or deep targets that other detectors might miss. Plus, its automatic ground balance feature ensures that you will not get false signals caused by mineralized soil. The X-TERRA PRO's sensitivity also means that you can cover more ground in less time, so you can find more treasure in every session. With its precision, sensitivity, and performance in any environment, the X-TERRA PRO offers the ultimate metal-detecting experience.
Search Modes
- Park, Field, Beach
Custom Search Profiles
- 6
Operating Frequencies (kHz)
- Park and Field: 5, 10, 15 | Beach: 8
Noise Cancel
- Auto (19 Channels)
Ground Balance
- Auto, Manual, Tracking
Threshold Level
- 0 to 25
Target Identification (TID)
- 119 segment notch discrimination: Ferrous: -19 to 0 I Non-ferrous: 1 to 99
Target Tones
- l, 2, 5, All Tones (At), Depth (dP)
Tone Break
- Ferrous (FE)
Tone Volume
- Tone 1 adjustable: 0 to 25
Depth Indicator
- 5 Levels
Discrimination Segments
- 30 segments (in increments of 4 Target ID's)
Length (approx.)
- Collapsed: 63 cm (25 in) Extended: 138 cm (54 in)
Weight (including batteries)
- 1.3 kg (2.9 lbs)
Display and Keypad Backlight (red)
- Off, High, Low
Vibration (Master and Ferrous)
- On, Off
Supplied Coil
- V12X 12" Double-D Elliptical coil with skid plate
Audio Output
- In-built loudspeaker, Wired 3.5 mm (1/8") headphones, Wireless headphones
Battery
- 3.7V/5100 mAh Internal Lithium-lon battery
Additional Included Accessories
- Getting Started Guide, Charging Cable
Waterproof
- 5m (16 ft) IP68
Operating Temperature Range
- +14 to +104 Fahrenheit 
Storage Temperature Range
- -40 to +158 degrees Fahrenheit
Key Technologies
- Pro-Switch™
Order Confirmation:
As soon as you place your order, you will receive an order confirmation e-mail.  This means that we have received your order in our system and pre-authorized your credit card for the purchase.  As soon as we receive your order, we automatically reach out to our suppliers to confirm that it is in stock and available for immediate shipment.  If your item is on backorder or unavailable, we will void the pre-authorization and reach out to you via e-mail.  If your item(s) are available for immediate shipment (within 3 business days), we will process the charges and submit the order for shipment.
Order Shipment:
If your order is stock and we process the charges to your credit card, it will ship within five business days from the date of your order.  We will send you tracking information within 24 hours of your order leaving the warehouse to the e-mail address you provided when checking out.  If you do not receive tracking information from us within six business days of your order, feel free to follow up with us at info@treasurecoastmetaldetectors.com
Liquid error (snippets/image-element line 171): invalid url input