CTX 3030 TECHNOLOGIES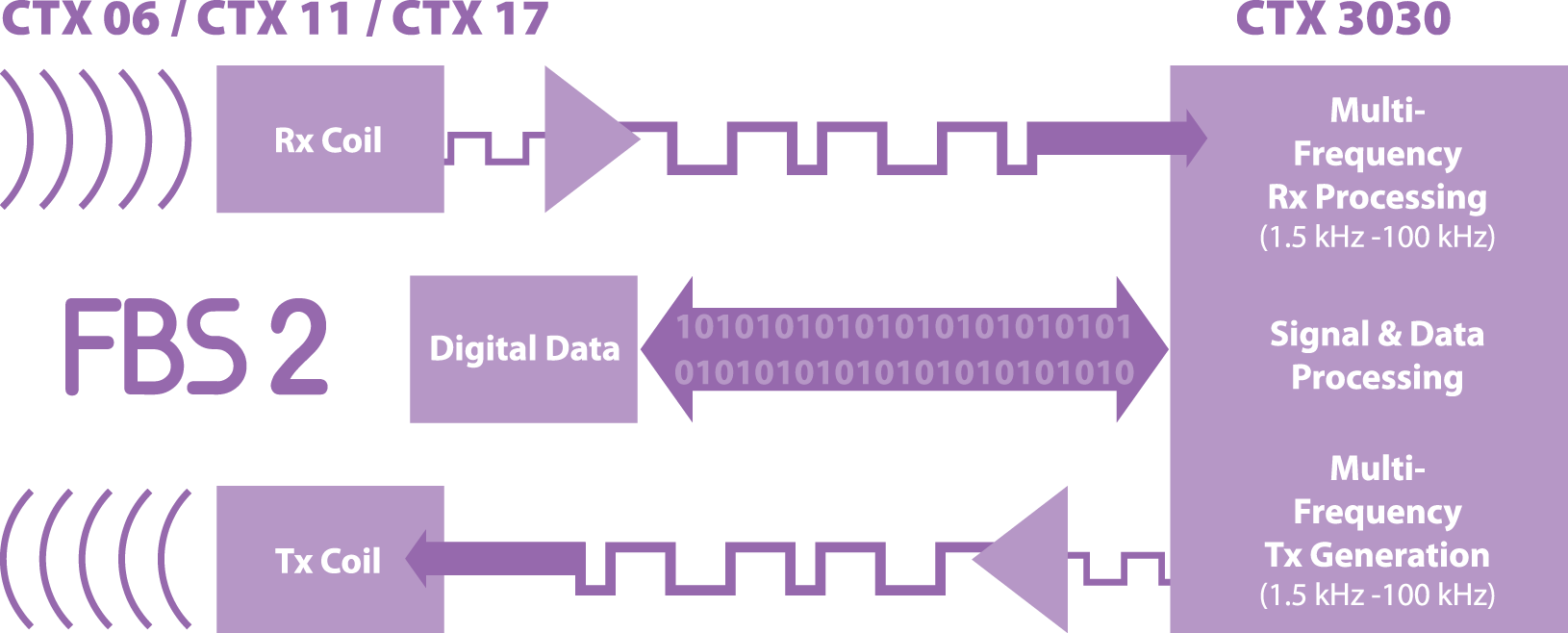 FBS 2
FBS 2 combines Minelab's FBS multiple frequency rectangular-wave transmission (1.5 kHz –100 kHz) with advanced digital coil-to-detector communications. The precisely calibrated smart coils and detector electronics allow advanced signal analysis for more accurate detection.
Application
Coin, Relic, Jewellery & Beach (waterproof 10ft)
Technology
FBS 2, Smartfind 2, GPSi, Wi-Stream
Frequency/Transmission
Multiple frequencies: 1.5 - 100kHz
Coil (standard)
11-inch waterproof Double-D smart coil
Audio Output
Built-in speaker, standard ¼-inch non-waterproof socket, custom waterproof socket (Minelab accessory headphones only)
Headphones Supplied
KOSS UR30 (100 ohm) supplied with detector (non-waterproof )
Visual Display
Full colour LCD with backlight and adjustable brightness (1–10)
USB Connectivity
XChange 2 (via USB) compatible with Windows XP, Vista and 7
Memory
Settings saved automatically while detecting and remain until changed or reset
Depth Indication
Accurate gauge active in normal detecting and Pinpoint mode
Detect Modes
10 fully customisable, including 5 preset (Coins, Beach, Relic, Silver & High Trash)
Discrimination
Smartfind 2
TM
2 dimensional colour discrimination: Ferrous 35, Conductivity 50 - 20 fully customisable discrimination patterns (2 per Search Mode)
Audio tone
Customisable Tone ID Profiles - 1, 2 ferrous (Fe), 2 conductive (Co), 4 Fe, 4 Co, 35 Fe, 50 Co or Combined
Audio Type
Normal, Long, Smooth & Pitch Hold
Ground Balance
Auto Compensation and Auto Ground Balance
Pinpoint
Non-motion with modulated audio and visual crosshair on LCD, 2 modes: normal and sizing
Sensitivity Adjust
Auto and Manual (1–30)
Tune / Noise Cancel
Manual & Automatic (11 channels)
Threshold
Level adjustment (1–50), Pitch adjustment (1–30)
Target Volume Adjust
Limit & Gain (1 to 30)
Battery
Li-ion pack with fast charger. 12 V car adapter supplied with Standard Pack only
Low battery alert
Audio & visual indication.
Length
Min 37 in. (940 mm) – Max 55.3 in. (1405 mm)
Weight
5.20 lbs (2.36 kgs) including Li-ion battery pack
Warranty
3 years control box & coil