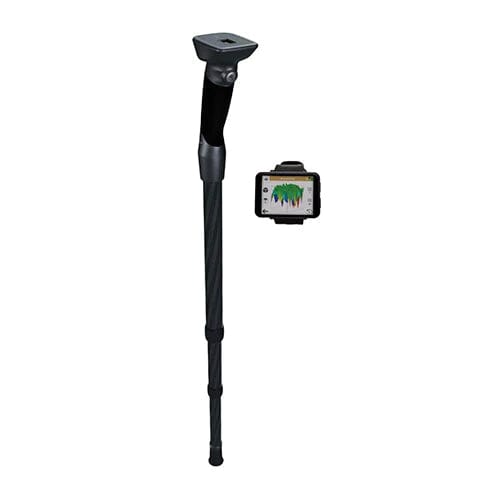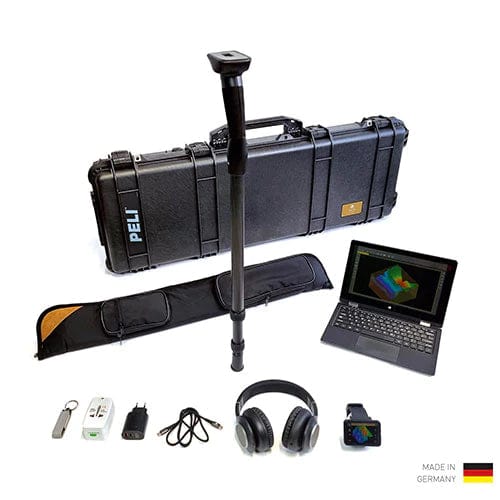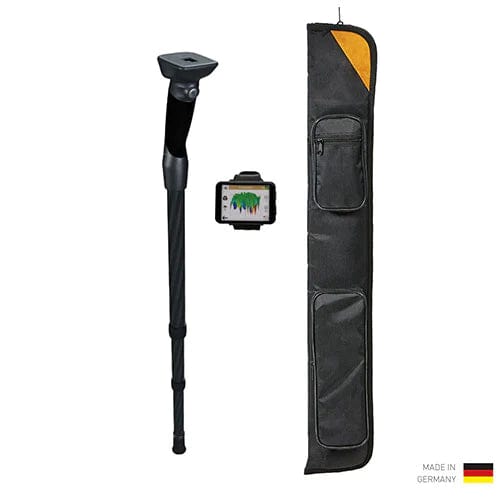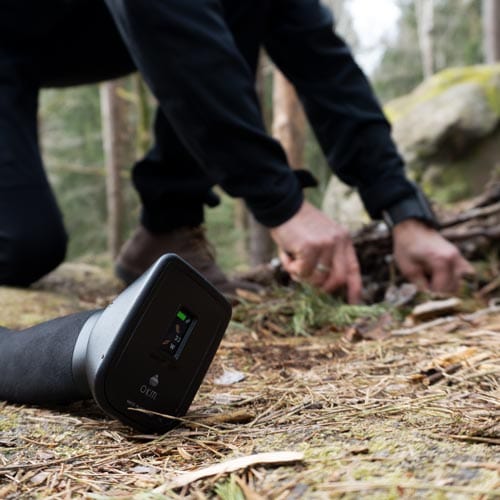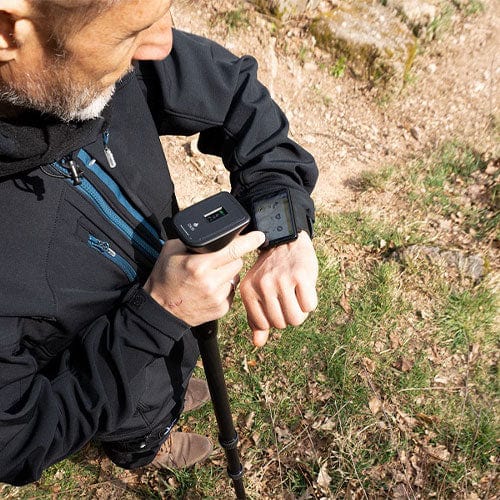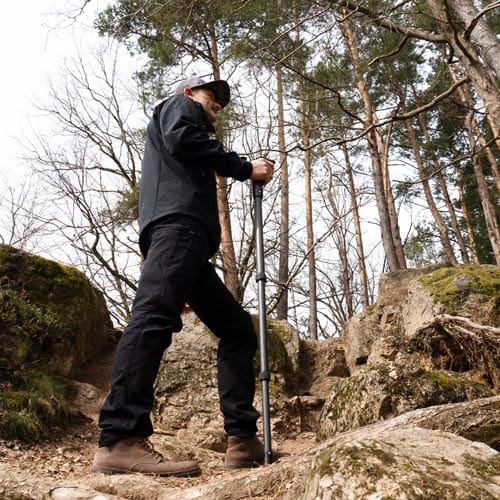 OKM Rover UC 3D Ground Scanner
Regular price
$10,490.00
/
---
Low stock - 1 item left

Inventory on the way
Undercover:

 

Lightweight detector designed as a trekking pole with smartwatch incl. fitness trackingand compass
Detection depth:

 

With this technology customers found objects

 

down to 20 m (65 ft) deep
Use cases:

 

Treasure hunting, cavity detection, archaeology, militaria detection
Operating Modes:

 

3D Ground Scan, Pinpointer, Magnetometer
Detectable objects:

 

Treasure chests, militaria, cavities, tunnels
The latest generation of the Rover UC comes with everything that beginners as well as advanced treasure hunters expect from a perfect ground scanner:
Simple and intuitive operation,
Lightweight, compact and inconspicuous design as well as
Acoustic, haptic and visual feedback
allow treasure hunters to achieve best measurement results of the underground without attracting attention.
The compact outdoor measuring device is disguised as a walking stick and thus hardly noticeable as a treasure detector. In combination with the Smartwatch as Control Unit, the Rover UC is a smart detector that offers additional functions.
Detectorists and treasure hunters familiar with OKM detectors know that the Rover UC is not just a metal detector with Magnetometer and Pinpointer: Rover UC is a 3D ground scanner. The integrated single-sensor technology allows to create high-resolution three-dimensional graphics of the subsurface.
Advantages of the Rover UC at a Glance
Like OKM's renowned 3D ground scanners, the Rover UC convinces with its perfect blend of usability, functionality, ergonomics and design, too. With its minimal weight of only 500 g (17.6 oz) and a length of only 67 cm (26") when folded, the 3D ground scanner can be taken anywhere:
extremely lightweight
compact and height adjustable
disguised as a trekking pole
integrated fitness activity tracking (pedometer, heart rate monitor)
integrated compass and GPS (disengageable)
incl. Android Smartwatch as control unit with direct display of scan images
ready for immediate use - no computer required for initial measurements
incl. pre-configured notebook with detection software

 

Visualizer 3D Studio
operating modes: Magnetometer, Pinpointer and 3D Ground Scan
basic target discrimination (ferrous/non-ferrous/cavities)
integrated rechargeable battery (charged via USB-C cable) with 48 h operating time
Concealed Capabilities: The Most Inconspicuous Detector with the Best Depth Performance
Finding treasures in secret has never been easier with the Rover UC metal detector - after all, the 'UC' designation of this 3D ground scanner actually means Undercover. The name already indicates that the detector is perfectly camouflaged for performing undisclosed measurements. Without arousing any interest or attracting curious glances, treasure hunters can search in places where they were previously unable to conduct undisturbed measurements.
Multifunctional and Powerful: OKM Sensor Technology
The multifunctional Rover UC detector is based on the reliable and powerful OKM sensor technology. This allows treasure hunters to detect objects such as jewelry, coins, artifacts, boxes and chests as well as chambers, graves or tunnel systems hidden in the underground.
Thanks to the implementation of modern and power-saving components as well as an integrated rechargeable battery, the detector can be used for several hours.
Intuitive 3D Ground Scanner with Android Smartwatch
The OKM App is already pre-installed on the included smartwatch. After switching on the detector, it connects automatically upon starting the application and is immediately ready for use.
The simple menu navigation on the smartwatch screen guides you quickly to your goal: Simply select the desired operating mode or adjust settings according to your preferences
Smart Treasure Hunting with Fitness Tracking and Compass
The integrated fitness tracker not only turns the Rover UC into a multifunctional trekking pole, but also completes its camouflage. If the Rover UC user is discovered and attracts suspicion, he can open the activity screen by only one click, which - as usual for fitness applications - will display the pedometer and heart rate.
To further emphasize the function of a trekking pole, a compass is also integrated. However, this not only assists with orientation in the terrain, but is also of great advantage for 3D ground scans: Experience shows that treasure hunters achieve better results with measurements in a north-south (or south-north) orientation, since the measurement paths follow the earth's natural magnetic field.
Individual Treasure Hunting: Easily Customize Detector and App
Height Adjustment
Thanks to the telescopic rod, the height of the Rover UC can be individually adjusted to the height of the treasure hunter in order to guarantee a comfortable posture. Another positive effect of the height adjustment: With increasing length, the sensors in the detector detect more sensitively and are thus even more capable of detecting smaller objects at greater depths.
Languages
In the OKM Rover UC App, users can choose from the following languages:
عربي (AR)
български (BG)
Deutsch (DE)
Ελληνικά (EL)
English (EN)
Español (ES)
فارسی (FA)
Français (FR)
Italiano (IT)
日本語 (JA)
Polski (PL)
Русский (RU)
Türkçe (TR)
中文 (ZH)
Design
Depending on the time of day and the site, different theme designs can be useful. Detector users can choose between bright day and dark night mode to see the information on the display more clearly and to remain inconspicuous even in the dark.
Use Cases
---
Select Feedback: Sound, Vibration and Visualization
Sound
Sounds are not only essential for VLF detectors, but also play an important role in the Rover UC 3D ground scanner:
giving feedback in the operating mode Magnetometer
as a metronome to support the performance of 3D Ground Scan measurements
To ensure the undercover character of the detector, Bluetooth headphones can be connected to the smartwatch or alternatively to a smartphone. This way, only the treasure hunter can hear the acoustic signals without attracting attention.
Vibration
Vibration can additionally be switched on in the App's settings menu. Haptic feedback is especially helpful when the sound is turned off.
Visualization
The small display on the handle of the Rover UC provides a brief overview with information on charging status, connection status, steps counted (pedometer) and orientation (compass). Furthermore, the progress of the current scan line is displayed during the 3D ground scan measurement.
The OKM App provides visual feedback on the Android smartwatch or alternatively on the smartphone:
In the operating mode 3D Ground Scan, the scan field is generated scan line by scan line as a 2D image during the measurement. After the scan has been finished and saved, the scan image can be enlarged and rotated via smartwatch touchscreen in order to analyze it in more detail in the resulting 3D image.
In the Pinpointer and Magnetometer operating modes, measurement values are shown on the display in real time.
---
Undercover Operations: The Rover UC Operating Modes
3D Ground Scan
Graphical 3D ground measurement with manual and automatic pulse triggering: After measuring the target area, a three-dimensional graphic is created that can be evaluated directly on the smartwatch display. For a detailed representation, the scan file can be transferred to the notebook and analyzed in the Visualizer 3D Studio detection software.
Magnetometer
Magnetic field measurement to find metallic objects in the subsurface: The Magnetometer operating mode is used to acquire a quick overview of the target area. It is recommended that the location is cleared of unwanted metal objects using the Magnetometer before performing a 3D Ground Scan.
Pinpointer
Basic target identification and visual metal discrimination between ferromagnetic and non-ferromagnetic metals: With Pinpointer, detected objects can be localized even more precisely and the type of target can be determined more easily.
Specifications
Telescopic Probe
Dimensions (L x W x D): 670-1380 x 65 x 80 mm
Weight: about 0.5 kg
Operating temperature: –5°C – +60°C
Storage temperature: –10°C – +70°C
Air humidity 5 % – 75 %
Input Voltage (max): 5 V / 2 A
Charging time: 3 h (10 – 30°C)
Operating time: about 48 h
CPU: Cortex-M0+ / 24 MHz
Display: LCD, 80 x 160 pixel
Samples: 240 per second @ 15 bit
Sensor technology: SCMI-15-D
Technology: GST / EMSR
Interconnect: Bluetooth 5.2, max. distance 8 m
Compass: Yes
Pedometer: Yes
Waterproof: No
Data Transmission
Technology: Bluetooth 5

Frequency: 2.4 – 2.4835 GHz
Maximum Transfer Rate: 1 Mbps
Receiving Sensitivity: –85 dBm
Maximum Range: approx. 8 m (Line of Sight)

Computer Minimum Requirements
Free Disk Space: 250 MB
Working Memory: 2 GB
Graphics Card: 1 GB RAM, OpenGL 3.3
Display: 1920 x 1080
Processor: 1.2 GHz
Operating System: Windows 10, Windows 8.1, Windows 7
Interface: USB 2.0 for data import from OKM detector
The technical data are average values. Minor deviations are possible during operation.
 What's In The Box

1x
Wireless Telescopic Probe
1x
Android Smartwatch with pre-installed OKM App
1x
Bluetooth Headphones incl. charging cable
1x
Pre-configured Windows Notebook
1x
USB Flash Drive with

 

OKM Visualizer 3D Studio

 

Standard Edition
1x
Power Pack
1x
Charger with charging cable (USB-C)
1x
Carrying Bag
1x
Waterproof and shock-resistant Protector Case
1x
Quick Start Guide
OPTIONAL
Android Smartphone with pre-installed OKM App
International Customers
Import duties, taxes, and charges are not included in the item price or shipping charges. These charges are the responsibility of the buyer.
Please check with your country's customs office to determine what these additional costs will be prior to purchase.
Treasure Coast Metal Detectors Disclaimer
Treasure Coast Metal Detectors is not responsible for returns due to incorrect handling of the equipment sold. We also cannot guarantee the discovery of valuable treasures or metals if there is nothing to be found in the search area. Treasure Coast metal Detectors guarantees that the devices detect efficiently as they are constantly evaluated by detectorists and manufacturers to provide the best results. However, we suggest that our customers carefully analyze the equipment before making any purchase, as they are high-end and very modern devices that cannot be returned.
Furthermore
The buyer is responsible for all import duties, taxes, and charges.
The buyer should check with their country's customs office to determine the exact amount of these charges.
Treasure Coast Metal Detectors is not responsible for returns due to incorrect handling of the equipment.
Treasure Coast Metal Detectors cannot guarantee the discovery of valuable treasures or metals.
Treasure Coast Metal Detectors guarantees that the devices detect efficiently.
Treasure Coast Metal Detectors suggests that customers carefully analyze the equipment before making any purchase.
Order Confirmation:
As soon as you place your order, you will receive an order confirmation e-mail.  This means that we have received your order in our system and pre-authorized your credit card for the purchase.  As soon as we receive your order, we automatically reach out to our suppliers to confirm that it is in stock and available for immediate shipment.  If your item is on backorder or unavailable, we will void the pre-authorization and reach out to you via e-mail.  If your item(s) are available for immediate shipment (within 3 business days), we will process the charges and submit the order for shipment.
Order Shipment:
If your order is stock and we process the charges to your credit card, it will ship within five business days from the date of your order.  We will send you tracking information within 24 hours of your order leaving the warehouse to the e-mail address you provided when checking out.  If you do not receive tracking information from us within six business days of your order, feel free to follow up with us at info@treasurecoastmetaldetectors.com
Liquid error (snippets/image-element line 171): invalid url input